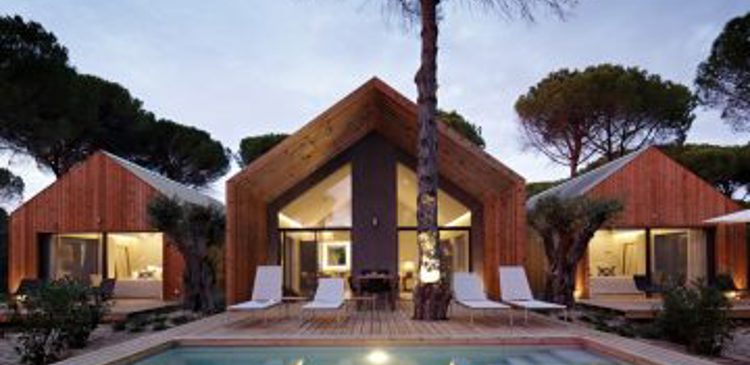 Have you thought about having paradise so close to you?
Read the article and I bet you'll be packing in the end.
High quality tourism, sustainability and the preservation of the natural and cultural heritage make Comporta a European reference model. Located in south of Lisbon on the Alentejo coast, is an agricultural estate with an area of over 12,500 hectares (31 acres). It is environmentally and ecologically friendly with its forests, the sea breeze, vast fertile land and abundant sunshine.  Within this estate several factors have been taken into account: preserving the region's traditional architecture and creating one floor houses using natural materials from the area and blending in harmoniously with nature.
About an hour from Lisbon you can find the perfect balance between crystal clear beaches and luxury resorts and it is a great choice for relaxing and spending leisure time throughout the year and to escape from a busy city.
You can take this trip in two ways. Just by car where you can see the storks' nests during the trip or by car and boat. By car and boat becomes more interesting because in addition to crossing the banks you may be fortunate to see dolphins during the crossing.
Arriving at the destination you will come across an incredible scenery of peace and beauty but do not be fooled by it because if on one hand Comporta has the best environment to relax and renew energies on the other hand there are also a lot of things to do by on here.
You have 12kms of amazing beaches and crystal water surrounded by dunes, pine trees and long rice fields. Many of them are deserted but the ones that are not, are excellently attended by bars, parking, walkways, showers and restaurants. all to improve and facilitate your experience. it is mandatory to visit the beach of Comporta, Pego and Carvalhal. and if you like picnics why not make one at one of these beaches?
Being an icon of Comporta, the rice fields that accompany the Sado estuary should be visited by you. Then visit "Museu do Arroz" and finish off with dinner in the museum's own restaurant. The facilities are located in a former rice husking factory, dating from 1952, when shelling began at Comporta.
It is also interesting to go to Porto Palafítico da Carrasqueira where the local boats are moored, see the handmade piers with stakes and enjoy the peace of the place and the wonderful sunset reflected in the river waters.
Last but not least, if you like a more active program you can always enjoy the golf courses in perfect climate and scenery on the sea and Serra da Arrábida views. You can also choose to go to the equestrian center and go horse riding or if you are more adventurous go horse riding on the deserted beaches of Comporta.
To enjoy this wonderful experience in Comporta is essential to have a house and so we made a selection of the best that we can offer. You can choose to live in one of our amazing villas or by living in Villas added to the hotel services.
See some of them and be dazzled by their beauty.
Sublime