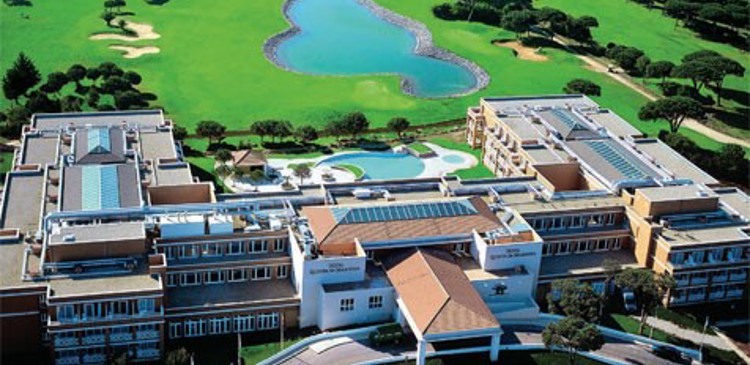 Estoril, Cascais, Lisboa,
Can you imagine living in a luxury village?
Cascais, located between the city and country, the beach and nature offers 3 perfect options.  The Quinta da Marinha, Quinta Patino or the Quinta Beloura offer privacy, luxury, security, exclusivity as well as comfort and beauty.
QUINTA DA MARINHA
Located in the cosmopolitan area of Cascais the Quinta da Marinha near to the fantastic Guincho beach, well known to the surfing world, it is a luxury development that has 4 elegant hotels, 2 golf courses with 18 holes (a place where lots of business takes place), a riding centre, health club and an exclusive tennis club. To whoever enjoys a good walk or run at the end of the day you can enjoy the fantastic routes along the road surrounding the development with its sea views. It has 24 hour surveillance and its excellent location is 5 minutes from the historic centre of Cascais as well as the Marina and beaches and 30 minutes from Lisbon and its airport. It is a true paradise away from the daily bustle of the city.
See Our properties on Quinta da Marinha

QUINTA PATINO
Further from the beach but no less important is the most luxurious private condominium in Portugal with 5 decades of history the Quinta Patino. Its elegance and description create a unique atmosphere with exceptional design and incredible exotic gardens.  With superb views between the sea and Sintra hills residents have access to many paths and walking circuits, gymnasium, football and tennis fields, children's park, swimming pool (not used much as every house has its own private pool) and the amazing lake. It also has a transport service for domestic staff and a 24 hour security service which is important and appreciated by its residents. The condominium is between Estoril and Cascais and so also very central.
See Our properties on Quinta Patino
QUINTA DA BELOURA
Further away but equally in a premium area is the Quinta da Beloura in a stunning landscape near Sintra. A development that is coexistent with leisure and security as well as a commercial part. Giving priority to the preservation and contact with nature here you find perfect peace.  It has an exclusive private environment for residents through access to the golf course, tennis, riding school and Holmes Place with spa and a team of wellness advisors and personal trainers, with one of the most reputable gymnasiums in Portugal. To this we can add the shopping area where we can find several clinics, chemist, commercial centre, the El Corte Inglês supermarket and some restaurants. To complete this, the condominium also has 24 hour security with surveillance cameras and daily and night-time rounds by security guards.
See Our properties on Quinta da Marinha